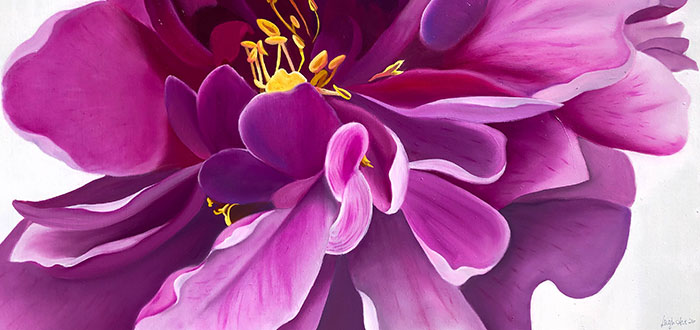 Biography / Artist Statement
Born and raised in Lubbock, and a Texas Tech alumni, Whitney pursues her love of art through oil painting and pottery. As a graphic designer by trade, she's consistently engaged in some form of artistry every day.
A self-taught painter, Whitney began painting in 2007 with acrylics while sitting on a sheet-covered floor in her bedroom with a canvas leaned up against her old toy box. Flowing through the ups and downs of teaching herself and creating a multitude of eclectic work, she soon found oil painting while attending Texas Tech in 2013, and immediately fell in love with the medium. Her greatest accomplishment during her time at Texas Tech included a hyper-realism piece that has since sold. However, it's Whitney's goal to continue to reach for that hyper-realistic nature in her paintings.
Over the last few years, Whitney has found her painting-niche in flowers. Her favorite being peonies, she's slowly branching out into other gorgeous botanicals. Her painting space has changed quite a bit over the last 20-plus years. Her living room is divided by a palette wall providing a living space on one side and an office/paint studio on the other. With a standing easel, an array of paints, and an observant, four-legged assistant named Kit, Whitney creates her petal and color-filled pieces in the comfort of her home.