2022 Legacy Award Recipients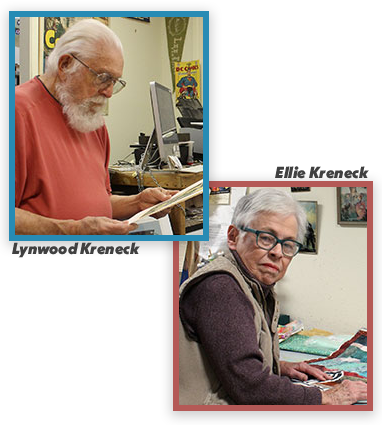 Ellie and Lynwood Kreneck  first met in a classroom at the University of Texas (Austin) in the Spring of 1956.  In the fall of 1957, after Ellie returned from a year in Germany, they found themselves in the same oil painting class and began to get to know each other over long coffee breaks at a nearby student hangout.  This lead to dating and eventually marriage in February of 1959 – a week after Ellie graduated from UT.   Their first home was in San Antonio where Lynwood worked as a graphic designer for several years.  He went back to UT in 1963, was awarded his Master of Fine Arts degree – then accepted a teaching job at Texas Tech.  He, Ellie, and their 3 children moved to Lubbock in the Fall of 1965.
Ellie
Ellie was sporadically an adjunct in design and also art history at Texas Tech University. She also has been a volunteer at the museum of TTU for over 50 years.  She always loved fabric  and sewing, which eventually led to art quilting.  In 2007, she was juried into the international organization, Studio Art Quilt Associates (SAQA) as a professional artist.  That same year, Ellie and 2 other art quilters founded Caprock Art Quilters, which  celebrated its 10th anniversary with a group show at the Buddy Holly center in Lubbock in 2018.  Her work has been in many regional, national and international  shows – including: Quilts=Art=Quilts in Auburn NY in 2013,   Celebration Silver ,a celebration of SAQA's 25th anniversary which opened at the Houston International Quilt Festival in 2014 and went on a two year tour which spanned 4 continents, My Corner of the World , which opened in Stratford, Ontario in Canada in 2016 and  Australia in 2017.  Her work has also been included in one and two person shows among them, a one – person exhibition at the Gallery of Incarnate Word University in San Antonio, Tx in 2011, and  10 two -person shows with husband, Lynwood since 2005, including one at Midwestern University, Wichita Falls, Tx in 2021
Ellie's work has been reproduced in many catalogs, magazines and books, among them Five Hundred Art Quilts , (Lark Publications), Lone Star Quilts III, Texas Quilts Today, 1986 – 2011 (University of Texas Press), People and Portraits (Lark Publications), Contemporary Art of Nature – Mammals (Schiffer Publications), Quirky to Modern Art Quilts, (Dorcas Publications),  Legacy of a Thousand Stitches by Dr.  Marian Ann Montgomery, and the SAQA book, Art Quilts Unfolding, (Schiffer Publications), representing the last 50 years of art quilts.
Ellie's work is in the White House Ornament collection in Washington DC and the Museum of Texas Tech University in Lubbock as well as numerous private collections.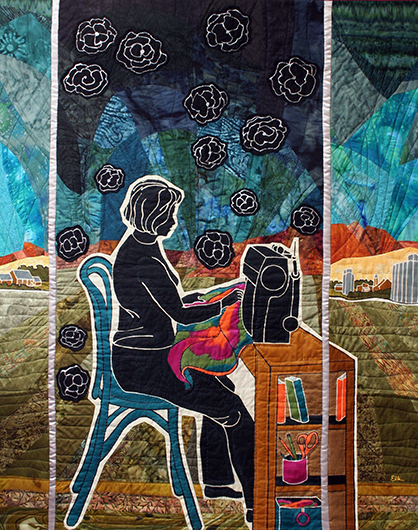 Lynwood
Lynwood taught printmaking at Texas Tch University for 40 years.  As a visiting artist, he has visited over 80 universities and colleges here and abroad.  He has been included in over 200 national and international invitational and juried exhibitions with over 40 prizes and honors.  Kreneck has taught and demonstrated the results of his research in Waterbase  Screenprinting at the invitation of more than 50 colleges and universities in this country as well as in New Zealand, Germany, Ireland, China and Belgium.
Lynwood Kreneck was the founder and Director of Colorprint USA, a national print exhibition.
He has judged several mixed media shows as well as national printmaking exhibitions. Including National Works on Paper, Oklahoma State University, Stillwater, OK; the 32nd Bradley International Print and Drawing Competition, Peoria, Ill. and Arts Now! in Bangor Ireland.
Kreneck is represented in over 60 museum and university collections including: US State Department- Art in Embassies program, Washington, DC; Art Institute of Chicago, Il;  High Museum, Atlanta. GA;  the Philadelphia Museum of Art;  the San Diego Museum of Art;  the Royal Museum of Antwerp, Belgium; and The Biblioteque Nationale, Paris, France
In 2006, Lynwood Kreneck received the lifetime achievement award for Excellence In Teaching Printmaking at the Southern Graphics International Conference in Madison, WI.  In 2015 He received a top prize in the Society of  American Graphic Artists centennial exhibition at the Art Students League in New York City.