2023 Legacy Award Recipients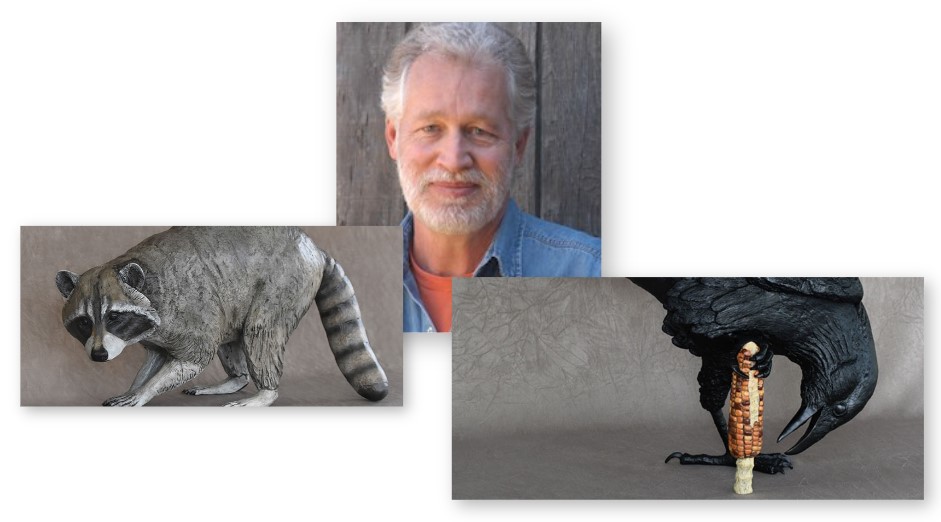 Biographical Information
Jim Eppler loves animals, and it shows in his art. His animal sculptures are so lifelike one expects them to move at any moment.
"I think I'm just so hyper interested in animals that I want them to be right to my eye,"
he says. "I pay a lot of attention to the little things, like toes and eyes and beaks; all the little details."
His attention to the tiniest of details is what makes Eppler's work look life-like. It is also a frustration for him. "I don't like getting so focused on the little details," he says. "I wish I wouldn't get so distracted by details, but it goes against my nature to not go back and fuss with the small things."
Eppler notes he does do works that he calls "loose." He describes loose works as those done in Impressionistic type style trying to apply clay accurately with minimal manipulation afterward.
Some of those loose pieces are his favorites.
"It's what I like to look at in other artists' work," he says. "But I often end up seeing problems with the details that I can improve but will lose the spontaneity of the first attempt."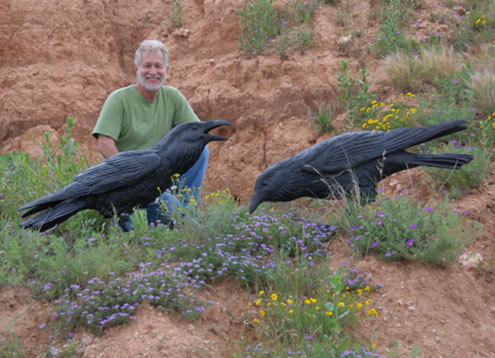 Eppler doesn't remember a time when he wasn't making art. "I may have been born doing it," he says. Growing up in El Paso, he spent hours outdoors, observing animals and sketching and painting. My parents recognized my interest and arranged oil painting lessons in my pre teens. It was after coming to Lubbock that he took his first art class while in high school. He continued his formal training at Texas Tech University, earning a Bachelor's of Fine Arts in Studio Art.
He continues to spend a great deal of time outdoor observing and photographing the creatures he paints and sculpts. In February 2023, he was working on a sculpture of a red fox. As with most of his work, the fox just happened to catch his eye one day last fall. 
"I never know where the inspiration will come from," he explains. "I'll have an encounter with something. You don't see red foxes often, mostly we have gray foxes around here. He just happened across my line of sight and that inspired me to sculpt a fox."
Eppler took lots of photos of the fox, just as he does with most of his pieces. He supplements his images with photos from other sources so he can see as many different views of the animal as possible. He then builds an armature which is the metal frame, to get the proportions of the creature right and then he begins applying clay.
It does not take him long to get the initial part of the sculpture done, but then his penchant for attending to the details kicks in.
"I can get about 80 percent done quickly, it's just that last two percent that takes the time," he says. "I want to live with it for a while. Maybe I'll work on a paw, or the mouth or an eye. I'll sit with him a while, study him, just looking at it. I'll make minor adjustments to fine tune the piece."
His math may not add up, but the final product is a fox that looks like it will step off its pedestal at any moment. His sculptures feature a number of creatures from ravens to mountain lions. While most are life size, he does do tabletop-sized sculptures. His ravens began much as the fox did, with observation while he was in Jackson Hole, Wyoming.
"I had several encounters with the birds and made a sculpture and it eventually turned into series of the birds," he says.
Eppler has a studio in his home. He uses foundries in various places. A foundry is where molten metal is poured into a mold. He uses Hendrix Brothers Bronze in Woodrow for chasing the rough cast bronze and then the patina. We have worked together long enough that they really know what I am looking for in the finished piece.
Sculpture is not Eppler's only art form and animals not his only subject matter. He's also an accomplished painter and portrait artist. A musician himself, Eppler has been commissioned to do portraits for the Nashville Songwriters Hall of Fame and other commissioned pieces for MCA Records, Mercury Records, Chappell Music, the National Wild Turkey Federation, and numerous private collectors.
Eppler is represented in galleries across the country and is featured in the book, "Wildlife Art, 60 Contemporary Masters and Their Work" (Joan Muyskens Pursley, Portfolio Press), and in numerous magazines. His public installations include the Ronald Reagan Presidential Library, Frederik Meijer Gardens, South Plains Wildlife Rehab Center, National Exhibits Foundation, National Ranching Heritage Museum, Booth Museum, West Texas Museum Collection, the Benson Sculpture Garden, and the Virginia Museum of Animal Art, along with numerous private installations.